In today's fast-paced and competitive business world, providing a secure and welcoming environment for clients, visitors, and employees is crucial. Concierge security services in Melbourne offer a unique and effective approach to enhancing both the safety and overall experience of individuals entering your business premises. By combining the roles of a security guard with excellent customer service skills, concierge security services create a positive and secure atmosphere. In this blog post, we will explore the key reasons why your business should consider investing in concierge security services.
Enhanced Customer Experience
Concierge security services go beyond traditional security measures by prioritizing exceptional customer service. The presence of a well-trained and courteous concierge security officer can make a lasting impression on clients and visitors. They can provide personalized assistance, answer questions, offer directions, and handle various requests, creating a positive and welcoming experience for everyone who enters your premises.
Improved Security and Access Control
Concierge security services combine security expertise with a focus on access control. Security officers act as the first line of defense by monitoring and managing access to your business premises. They ensure that only authorized individuals enter the facility, preventing unauthorized entry and reducing the risk of security breaches.
Crime Deterrence
The sight of a professional and vigilant concierge security officer acts as a deterrent to potential criminals. Criminals are less likely to target a business with visible security, knowing that their unlawful activities may be detected and prevented. Concierge security services contribute to a safer environment, which can positively impact the security of your business and its assets.
Emergency Response and Crisis Management
Concierge security officers are trained in emergency response and crisis management. They can quickly assess and respond to potential threats, such as medical emergencies or security breaches. Their ability to act swiftly and efficiently can make a significant difference in the outcome of critical situations.
24/7 Security Solutions
Concierge security services are highly adaptable and can be tailored to meet the unique needs of your business. Whether you require security services for a corporate office, hotel, residential building, or retail establishment, concierge security officers can be trained to address specific security challenges and provide 24/7 security solutions in Melbourne.
Professional Image and Brand Reputation
The presence of security services in Melbourne conveys professionalism and a commitment to safety. Clients and visitors are more likely to trust a business that invests in security and prioritizes the well-being of its stakeholders. The positive impression created by concierge security services can enhance your brand's reputation in the market.
Assistance with Customer Inquiries
Concierge security officers can act as the first point of contact for customer inquiries, saving valuable time for your regular staff. Whether it's providing information about your business, directing visitors to specific areas, or offering assistance with general inquiries, concierge security services can support your overall operations.
Handling Deliveries and Packages
Concierge security officers can take charge of receiving and managing deliveries and packages, ensuring that they reach the intended recipients safely. This service can be especially valuable for businesses that receive a high volume of deliveries.
Peace of Mind for Employees
Knowing that their workplace is protected by concierge security services can provide peace of mind for your employees. A secure environment fosters a sense of well-being and boosts employee morale, leading to increased productivity and job satisfaction.
Personalized Services for VIPs and Special Guests
For businesses that frequently host VIPs, special guests, or high-profile clients, concierge security services can provide personalized attention and discreet protection. The combination of security expertise and customer service skills ensures that these individuals feel valued and secure during their visit.
Security Guards Melbourne offers a comprehensive and versatile approach to business security. By combining security expertise with exceptional customer service, these services not only enhance the safety of your premises but also create a positive and welcoming atmosphere for clients, visitors, and employees. Investing in concierge security services can significantly contribute to the overall success of your business by improving the customer experience, deterring criminal activities, and strengthening your brand's reputation. Ultimately, concierge security services provide the peace of mind that your business is in capable hands and that the well-being of your stakeholders is a top priority.
Summary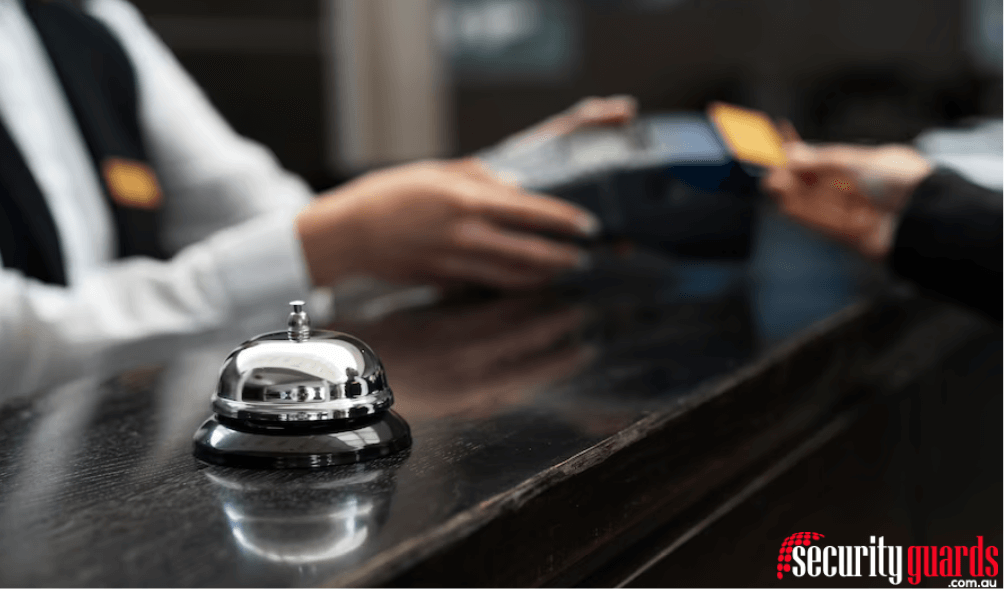 Article Name
Why Your Business Should Have Concierge Security Services?
Description
Concierge security services in Melbourne offer a unique and effective approach to enhancing both the safety and overall experience of individuals entering your business premises. By combining the roles of a security guard with excellent customer service skills, concierge security services create a positive and secure atmosphere. I
Author
Publisher Name
Security Guards Melbourne
Publisher Logo